When you search for "how does google search work" or "how to show up on Google" it's surprising that it can be so hard to find the material that Google itself wrote about "how google search works" and "how to show up on Google".
What to Do if Your Website Is not Showing up on Google Searches
Answer these five questions (from https://support.google.com/webmasters/answer/34397?hl=en):
Do I serve high-quality content to users?

Have you completely filled out a profile on Google My Business?

Is my content fast and easy to access on all devices?

Is my website secure?

Do I need additional help?
More information can be found on Google's web page for How to Get Your Website on Google
For more on SEO and my perspective, please read on.
More links to resources here for what Google says about how Google Search works
Personally, I still love the video from Matt Cutts from like 2004 about How Google Search Works, but this is obviously more up to date. I will include the Matt Cutts video here as well.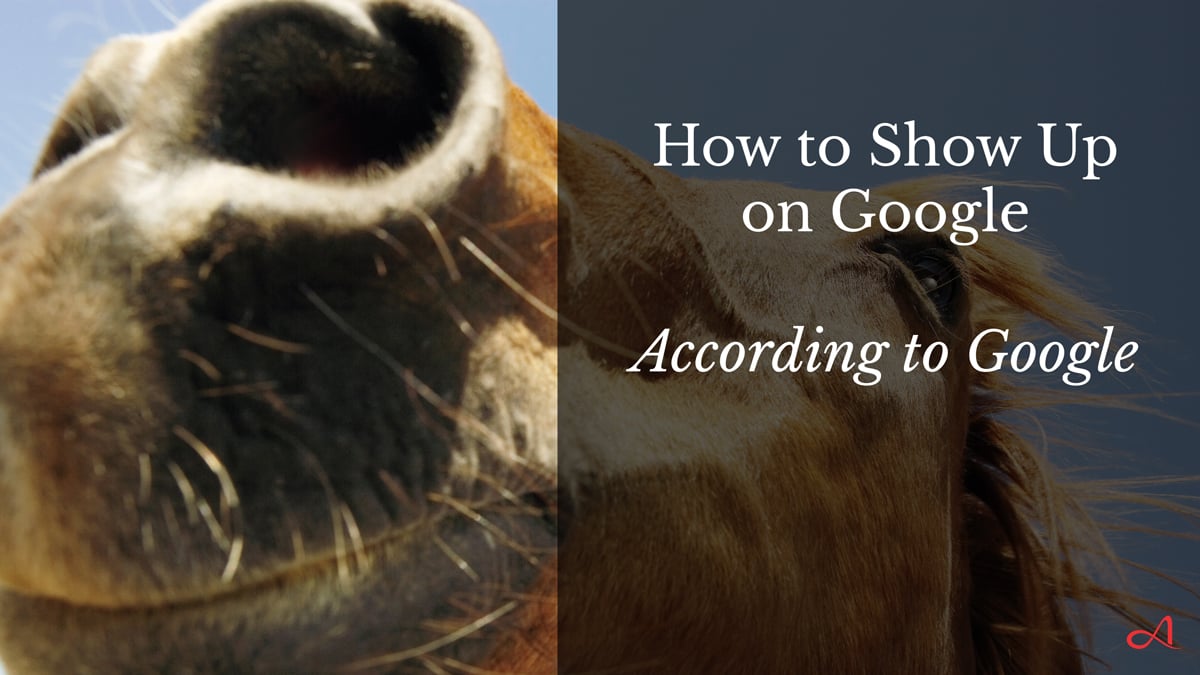 What Google Says About How Google Search Works
What is Website Speed?
If your website is "mysupercoolwebsite.com" and I type "mysupercoolwebsite.com", do I see your website immediately, or do have to look at a blank screen for a while before your website actually pops up. If your website is fast, it pops up quickly. If it's slow, it doesn't.
There are lots of reasons that a website can be slow. However, if your website is less than 10,000 pages and built on a modern website platform (e.g. HubSpot, WordPress, Wix, Squarespace, Shopify, etc. etc. etc.) you're probably fine. However, you should be careful that when you add pictures to your website you "optimize them for web". In other words, don't have pictures that are heavier than 250 KB.
In this 2014 article Google officially acknowledged that SSL / HTTPS was a factor in showing up on Google:
https://webmasters.googleblog.com/2014/08/https-as-ranking-signal.html
Videos About How Google Search Works:
Matt Cutts 2010 Video About What Happens When You do a Web Search:

More in Depth 2014 Video from Matt Cutts About How Search Works:
👇👇👇MY FAVORITE (only 5 minutes long) 👇👇👇
More Recent 2019 Video How Google Search Works in 5 Minutes (REALLY GREAT!) My new favorite:
If you want to get REAAALY deep into the weeds of how search works, check out Google's Official Search Quality Guidelines Document you can download the most recently updated version here December 5, 2019, or click on this link to get it from Google directly: Warning, this document is super technical and long:
https://static.googleusercontent.com/media/guidelines.raterhub.com/en//searchqualityevaluatorguidelines.pdf
Your Articles Need SkimCatchables
Skim-Catchables are bloggers' - now- not-so- secret weapon to make readers' jobs easier because they can easily skim down a page and find the answer to what they are looking for. Engaging titles and subtitles, gorgeous infographics, and functions like TL; DR (Too long; didn't' read) not only help readers, but should be part of any writer's tool kit!
Topic #What is SEO,#SEO,#abilitySEO,#Baltimore SEO,#local seo
Adam Singer
Adam Singer began programming for the World Wide Web in 1998 while working as an Informational Specialist for the Bureau of National Affairs, a Fortune 500 publishing company based in Washington, DC. In 2001 Adam became the Marketing and Communications Director for Jetro Platforms, a server-based computing software manufacturer. In 2011 Adam founded AJ Singer Studios, an Internet Marketing company based in Savannah, GA. In 2015 Adam formed Ability SEO as a full service marketing agency specializing in using SEO, social media, and e-mail marketing to get more visitors, leads and customers