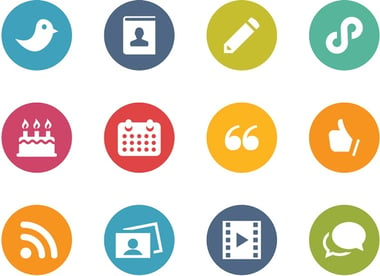 Social media can be daunting for realtors. If you are busy meeting clients and trying to close deals, you may be overwhelmed by the idea of devoting significant time posting online and keeping up with multiple social media platforms. You may not know which social media channel to post on, and you may be unsure of what you should even be posting, apart from property listings.
But in 2020, social media is where the game is played and the better informed you are of the rules, the better you will be at playing it. Awareness of where to focus will mean that instead of spending hours running an ad-hoc social media campaign, you can focus your social media strategy on reaching the right people and providing the best content. Having a targeted and effective strategy will ultimately leave you with more time to run your business - and more customers!
Every realtor should know the following statistics. They demonstrate just how wide your reach can be on social media, and how much you should be monitoring the social media scene. They emphasize what, when and where you should be posting - effectively serving as a guide to how to master your social media marketing.

Social media is about connecting with your prospects where they are already - on social media! There are many different platforms to consider, and what you post may differ depending on which audience you are aiming to attract. Below is a brief overview to help you get started.
Facebook has more than 2 million members and is regarded as one of the best social media sites for conversion rates, so even if you don't choose to be on every social media platform, this is a good place to begin. Make sure you are operating from a business account, not a personal one. Mark Zuckerberg recently announced that Facebook is becoming more group centric, and creating supportive mini online communities. Joining groups as a helpful, empathetic resource strengthens your reputation.
Twitter is a great platform for realtors but it's power needs to be channeled correctly. It is conversational, so instead of just posting real estate listings, first join conversations about local news, or offer expertise on home buying in general, like home staging or market advice. Many people get their news from Twitter so sharing local news is a great way to get noticed. Familiarize yourself with hashtags, a key feature of Twitter. Hashtags are when # is placed before a relevant phrase or keyword, as a way of categorizing the tweet. You can use them to increase your visibility, and also to search for prospects directly. Images are crucial to getting your message out; according to Adweek,

tweets with images are 150% more likely to get retweets
Instagram is particularly popular with the younger crowd, so if this is demographic you are aiming to connect with, make sure you have established an Instagram presence. Instagram strongly favours visual content so ensure your content measures up. Users typically check their account multiple times a day, so this is a good platform for frequent posting.
Linkedin is a professional networking site, so this is your best place to forge links with other realtors and those working in the larger real estate industries. You may find that having a strong network with agents in related fields - eg. mortgage brokers, or home insurance agents - will provide business referrals to you. Posts with visual content still draw the most engagement here, so be sure to include photos, infographics and videos.
Youtube, pinterest and other social sites
If you are just getting started, you may prefer not to begin with each platform, but be aware that each one provides a different way to connect with potential customers. As the video marketing trend continues, you should strongly consider Youtube.
2) Only 20% of what you post should be sales!
The golden marketing rule is that 80% of what you post should be reserved for information about your industry and other valuable content for your reader, with just 20% left for promotional posts.
Simply put, it's not about you. Instead of thinking about your social media presence as being a direct sales pitch, see it as a way of cultivating relationships with would-be customers. You are establishing your company as being a helpful and trusted resource. The best way to do that is by providing value to your followers. Linking to longer-content blog articles provides your readers with useful resources which help them with their decision to buy, even if indirectly. So instead of just advertising houses, your blog can discuss market trends, neighbourhood amenities, and even interior design questions. By making it customer-centric, you have a better chance of providing compelling, engaging content. Because it's not about you, curating material from other sources (and attributing it to whoever wrote it) should be embraced. The key here is providing value, even if it wasn't you who wrote it. Part of the 80% can be directly designed to invite user participation. For example, you can ask an open question, related to buying a property such as "do you prefer an open-plan kitchen?". You can do this as a poll, or simply inviting responses and asking for people to share photos of their kitchen. This strengthens your relationships with your prospects and promotes brand loyalty.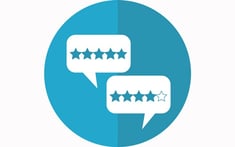 Traditionally, a buyer had to rely on the salesperson to convince him that his prices were reasonable, and that he offered a good product. Nowadays, the first thing your lead does is conduct online research. He trusts the reviews on the service you provide much more than your sales pitch. Posting positive reviews is therefore critical to your social media strategy. Clients who have just completed on their home are usually happy to provide a glowing review, so don't miss the opportunity to ask them for a few words, and permission to post these testimonials on your social media platforms.
4) Social media posts with VIDEO have 48% more views

(Hubspot)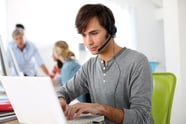 Video is the most engaging form of content and it's only getting more popular. Luckily, you have a business that lends itself amazingly to video, as prospective customers love to get a first glance of a house online, before making the trip to see it in person. As well as showcasing properties, you can do live videos about other related topics, for example, tips on how to stage a home for selling. Remember to make your videos 'closed caption', as many viewers watch their videos on mute.
Nowadays, messenger apps are dominating social media use. But the real scope for growth is in utilising these messaging apps as chatbots. A chatbot is an artificial intelligence software that allows you to engage with your leads directly, and respond to their questions instantly. If you are just getting started, focus on your Facebook messaging app, as so many of your ideal buyers are already on Facebook. It is user friendly and can be integrated into your ads for amplified effect. Your chatbot engages in conversation with your leads, and when programmed properly, can save you time by establishing what their interest is, and gathering information that will allow you to help them. It can direct traffic to your website, direct them to specific listings, and provide additional details.
6) 3 million businesses actively advertise on Facebook
Organic reach can only take you so far. Advertising can give you a great ROI if done well, and with so many people on Facebook, this platform is a great place to start. What can they offer you? Facebook is excellent at knowing how to target your ideal customers, as they have access to vast amounts of data about their users. Their ad campaigns target audiences that have already interacted with your business. They also create look-alike audiences - one's with similar characteristics to your current customers - and advertises to them too. This way, your ads are shown only to a very niche audience. You can also choose for your adverts to primarily reach people in a certain age or income bracket - or any other criteria that targets your ideal buyer. The analytics will show you how to tweak your ad content and audience.
There are different ad options but one that is particularly useful for realtors are their carousel ads. These allow you to show multiple photos or videos in one larger image, so you can show off many desirable aspects of a home in one go, appealing to a broader range of people.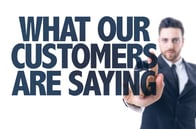 Social media monitoring means following what is being said about your business, by tracking when you are mentioned online. You can do this for your competitors too, so you can see where they may have an edge. If you are too busy to do this yourself, invest in software that will alert you when you are mentioned. This allows you to respond to comments in a timely way - whether they are positive or negative - which is important for your business reputation.
Social media listening is about the bigger picture. By listening out for cues and learning more about your potential buyers through their conversations, you can identify what matters most to them. You can use this information to pivot your postings, so you are really addressing the topics that they want to hear. A careful social listening approach will also allow you to spot would-be buyers and sellers before they even approach a realtor, for example, if you see someone posting that their place is too small for them. Searching keywords on social media sites and joining local groups are great ways to follow what is going on.
Looking Forward -
Once you understand where and what you should be posting, and how you can utilise social media to grow your real estate business, there's no going back. Digital marketers can help you take your social media marketing to the next level, so check back here for more tips on how to boost your business online.
Your Articles Need SkimCatchables
Skim-Catchables are bloggers' - now- not-so- secret weapon to make readers' jobs easier because they can easily skim down a page and find the answer to what they are looking for. Engaging titles and subtitles, gorgeous infographics, and functions like TL; DR (Too long; didn't' read) not only help readers, but should be part of any writer's tool kit!
Topic #How to Use Facebook for Business,#social media marketing,#Digital Marketing