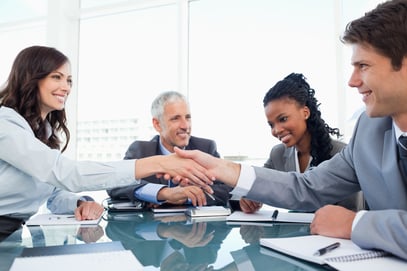 Lead generation is critical to growth in the CRO industry. But cutting through the market noise to attract and forge relationships with potential clients can be daunting.
There are a lot of moving parts to keep track of when running a lead generation campaign. Not only that, but the way b2b industries market is constantly evolving, so your marketing techniques need to be on top form to meet new realities.
Implement these 9 awesome - but straightforward - tips to propel your lead generation campaign to success
Be software savvy
Create amazing offers for all stages
Personalise your CTAs
Link your CTA to a dedicated landing page
Blog regularly
Use Social Media strategically
Get your Sales team involved
Don't give up: Retarget!
Analyze: be flexible, dynamic and iterate!
Let's take a look at how these work
1. Be Software Savvy
Hubspot data shows that the most successful marketing teams use a formal system to organize and store their leads. That's where lead generation tools and lead generation software come into play.
How much do you know about the people visiting your website? Do you have their contact information, and details about the company they represent? If you have this data, is it being stored efficiently? Which pages of your website are most popular? Which pages do your visitors visit before and after filling out a lead conversion form? How do they navigate around your website?
Knowing the answers to these questions helps you to connect with your website users - and these are all questions you can answer if you have the right lead generation tools!
Let's take a look at some of the different tools out there.
CRM (Customer Relationship Management) software: Go back to the basics, and make sure your business isn't using an outdated spreadsheet. You need a great platform to store all the data you collect. This is particularly vital for a B2B that needs to track interactions with leads across a longsales cycle. A great CRM allows you to customise properties, see what department your contact is from and the key facts about the business they represent. Hubspot offers a free CRM which ticks all the boxes.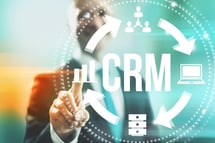 Lead Generation Software Tools: This free tool from HubSpot includes lead capture and contact insights features. It will scrape any pre-existing forms you have on your website and add those contacts to your existing contact database. It can plug in naturally to a free Hubspot CRM, or any CRM or data platform of your choice. It also lets you create pop-ups, hello bars, or slide-ins — called "lead flows" — that'll help you turn website visitors into leads immediately. While other tools that exist that perform some of the functions - for example, Google Analytics helps analyse website traffic and audience behaviour - Hubspot is a comprehensive marketing and sales platform, offering all these tools in one.
Visitor tracking: Hotjar has a heatmap tool — a virtual tool which creates a color-coded representation of how a user navigates your site — that helps you understand what users want, care about, and do on your site. It records visitors and tells you where they spend the most time on your site. You can use it to gather information on your lead generation forms, feedback forms and surveys, and more. Knowing which pages of your website work and which don't allow you to rectify the problem areas, and apply successful strategies to under-performing pages.
Form optimisation: So much of your lead generation campaign efforts go to directing your potential clients to this one critical moment when they encounter the form that converts them to a lead; don't neglect the form itself! Alex Birkett considers Formisimo to be the most robust in the industry at providing form analytics. Their reports look at form overview, field drop off, most corrected fields, completion time and problem fields, among others, and you can see these reports segmented by device. As well as tracking and reporting, this tool gives you tips on how to improve your form. It isn't free, but a trial period is available so you can easily see if you find it valuable.
Gated video: Get contact details for your video watchers: It's vital to feature video on your website, but did you know that you can use video to directly capture email leads? Wistias turnstile is a tool that allows you to gate your video at any point, and request that the viewer submits their email address before the video continues. It's a great tool to consider - the video trend is only growing - so capitalise on it for your lead generation campaign.
If you are overwhelmed with all the software out there - don't be. Start with a comprehensive system like Hubspot, and add in other stand-alone tools when you feel comfortable.
2. Create amazing offers for all stages
Your website visitors are all at different stages of the buyer's journey, so providing one - size - fits - all content doesn't work. Not everyone is ready to talk to a sales team member, or to book a consultation, if they are still in early research stages.
Ideally, you should have multiple enticing offers so that there is something that appeals to everyone, at whatever stage they are at. It is a time consuming approach but one that pays off, as leads are nurtured through their journey.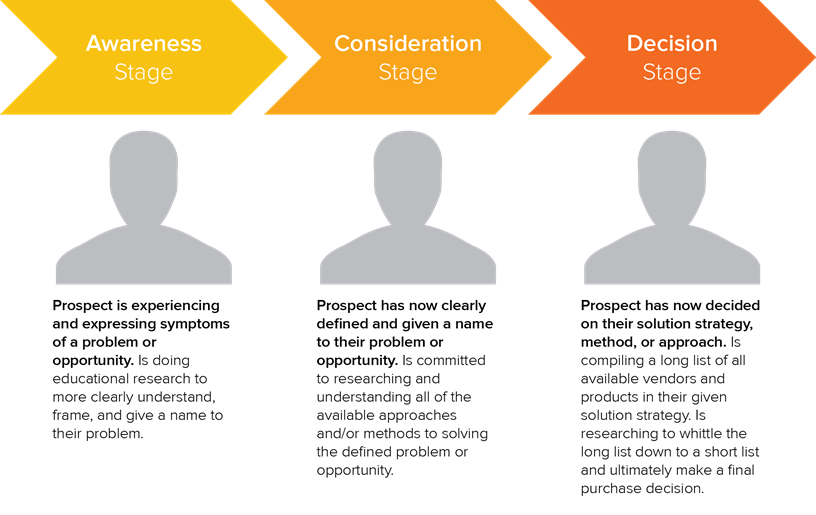 What kind of offers work for the different stages?
A survey from Regalix questioned 285 B2B marketers about the best content to offer at each stage of the buyer's journey. They found that at the awareness stage, social media posts, blog posts and infographics were particularly well received. You can also create an e-book or a guide to share information relevant to the life science industry. Once your prospect moves to the consideration phase, they have completed their initial research and want more. Regalix found that white papers and web-based events were popular offers at this stage. Case studies on clinical trials that you have run, or showcasing how your services have benefitted your clients are appropriate for the final decision stages. Demos, videos and research papers also all work well for the final stages, as readers are already broadly familiar with your services. From checklists to templates to free tools, here are 23 ideas for lead generation content to get you started. Don't forget: an offer doesn't need to be content based. You can also offer free consultations, or useful tools.
Now that you have created these offers, market your lead magnets effectively. Hubspot recommends using language that conveys clear and tangible benefit to your reader, invokes exclusivity and urgency and promises immediate gratification. Human nature is such that an offer will be much more appealing if it is exclusive or limited in any way.
Your CTA (Calls to action) to download these amazing offers, should be offered strategically throughout your website.
3. Personalise your CTAs
A great lead-gen asset are the CTA Templates that you deploy.. There are 50+ free, customizable call-to-action (CTA) templates in PowerPoint that you can use to create clickable CTA buttons to use on your blog, landing pages, and elsewhere on your site.
But if you want to really boost your conversion rates and enhance your users experience, then take personalisation further by using smart CTA's.
Smart CTAs are a dynamic tool, available to Hubspot Professional or Enterprise account users, that allows you to show the right message to the right person at the right time. Andrew Capland at Hubspot explains that smart CTA's can be programmed so that a first time website visitor can be shown an ebook to download, whereas a more serious lead may be offered a demo. Similarly, if someone is already a customer, they can receive a personalised message catering to them, as opposed to sales material.
Hubspot found that calls-to-action targeted to the user had a 42% higher viewed to submission rate than than calls to action that were the same for all visitors Not only do smart CTAs boost lead conversion, but they greatly enhance the website experience for your visitors. Imagine if a visitor has downloaded a guide on your website recently. If you use smart CTAs, instead of displaying an irrelevant offer, different content can be promoted. The visitor will be thrilled with this targeted personalised approach.
How can you build a smart CTA?
You can differentiate your CTA by lifecycle, or segment by setting up a smart list with any criteria you think is important. While you may need to tweak your lists as you get the hang of it, clearly smart CTAs are a winning strategy.
4. Link your CTA to a dedicated landing page
You've created amazing content, and used a great CTA to boot. But what happens to your visitor next?
This may seem obvious to you, but you'd be surprised how many marketers don't create dedicated landing pages for their offers. CTAs are meant to send visitors to a landing page where they can receive a specific offer. A landing page is a stand-alone page of your website, disconnected from the main navigation toolbars, and its sole focus is to persuade people to claim a specific offer.
CTAs which drive people to your homepage run the risk of your lead becoming distracted and failing to convert. Even if your CTA is about your business brand or service, you should still send them to a targeted landing page that's relevant to what they are looking for and includes an opt-in form. This maximises your chance of lead conversion
Optimise your landing page for success by including the following elements:
An attention-grabbing headline, prominently displayed
Ted Vrountas at Instapage cites David Ogilvy's assertion that 8 out of 10 people only read the headline! Make sure your reader understands what benefit he can receive by opting in to this offer.
Copy that is easy to read, and quick to digest
Bullet points are great for achieving this. You have already educated your prospect, this is just the final summary to push them to the finish line. The CRO industry lends itself to statistics and numerical data which work well in a bullet point format.
Use bright colours and make sure it is displayed high enough on the page that the reader sees it without having to scroll down

You can use an image of what they will receive or a hero shot. A hero shot is an image that teases out what your visitor will look/ feel like if they convert. Incorporating a video into landing pages has shown to boost conversion rates by 80%
Francis Santos suggests making sure that there is consistent design, colour and use of motifs throughout the visitor's journey, so they don't think they have stumbled onto the wrong page.
Optimonstor defines Social proof as a psychological phenomenon where people conform to the actions of others under the assumption that those actions are reflective of the correct behavior.
From a marketers perspective, social proof works because people are more likely to trust your business, if other people have already said that they value you. You can include any awards or certification your business has won, or high profile clients that have hired your company, endorsements and positive reviews.
5. Blog regularly

Most of your potential customers will have spent a lot of time researching your business before even reaching out to you! Anu Ramani (Isoline Communications) cites the findings of the Demand Gen Report, which estimated that 47% of buyers read between three and five pieces of copy before contacting a sales rep .
You have worked hard to create amazing offers, and the corresponding CTAs and dedicated landing pages, but sometimes your prospect has to become better acquainted with you before they will consider an offer enticing - and that's where great blog content comes in!
Creating a solid collection of blog material which you update frequently, serves a dual purpose:
1) providing material for your prospect to peruse, providing value to them and establishing you as an industry expert and thought-leader, and
2) boosting your SEO making it easier for you to be found in the first place!
Your blog content can cover a range of topics designed to appeal to your target audience. Sebastian Lambert at Hubspot suggests incorporating the following content types to attract your prospect:
Authoritative posts: Topics you're an expert in.
Solid opinion pieces: Insights backed by data.
Original research: Commissioned for industry consumption.
How-tos: Tips, tutorials that address prospects' problems.
Trending content: Piggybacks on popular topics relevant to your business.
Infographics: Information turned into digestible visual bits for easy consumption.
Videos: Did you know 72% of prospects prefer to watch a video than read to learn about a product? (State of Video Marketing Survey, Wyzowl 2017).
6. Use Social Media strategically
Social media needs to be a key part of your lead generation campaign, as many of your potential businesses will find you through social media channels, not your website. Linkedin, Facebook and Twitter are great places to establish a strong brand presence. Not sure how to do that? Check out our guide to using social media for lead generation here
While marketers typically think of social media as best for top-of-the-funnel marketing, it can still be a helpful and low-cost source for lead generation who are further along their journey and more invested in learning about your business. All the high-performing offers you have created above should also be shared on your social media platforms to maximise visibility. Make sure these offers are also directed to dedicated landing pages as opposed to your homepage, like we discussed above.
7. Talk to your Sales Team
Lead scoring is a shared sales and marketing methodology, where leads are ranked to determine their sales-readiness. Leads are scored according to many factors, such as the interest they have shown in your services and how good a fit they are for your business. Marketo states that lead scoring is essential to strengthening your revenue cycle, effectively drive more ROI, and align sales and marketing.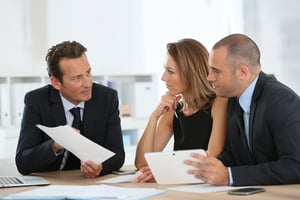 But how does that fit into your lead generation campaign? Lead scoring is essentially a way of qualifying how important your leads are to your business, but you can't do this without input from your sales team. How will you know what qualifies a lead for sales without knowing if your defined SQLs are sold? Your marketing and sales teams need to be aligned on the definitions and the process of moving a lead from MQL to SQL to opportunity before you even begin to capture leads. These definitions will likely need to be refined over time, so a collaborative relationship with your sales team will serve you well.
Your sales team are the ones interacting with your leads, so their feedback can help you better understand your buyer persona, and see if your targeting needs to be better focused. Remember, alignment between marketing and sales is usually reflected in higher conversion rates.
8. Don't give up: Retarget!
If you have been implementing these strategies and haven't seen your conversion rates soar, don't panic yet.
Michael Brenner, a global marketing expert asserts that a typical prospect browses several websites, and reads dozens of articles as they decide on what to purchase. In fact, only 2% of buyers make a purchase on the first visit! Retargeting your website visitors gives the other 98% a chance to choose your services. He claims that b2b industries don't use retargeting enough, but the trend is on the rise - retargeting can increase the chances that your visitor choses your brand over your competitors by 70%! That kind of competitive edge means you should definitely incorporate retargeting in your lead generation campaign, if you haven't already done so.
9. Analyse: Be Flexible, dynamic and iterate
Once you've set your lead generation campaign in motion, it's tempting to sit back and relax. But the people you are targeting are dynamic, and opinions and market trends change all the time. Since you have the software to analyse how you're doing, utilise it to assess how well your campaign is actually going. A/B testing is a great way to figure out which landing pages work best for conversion, which CTAs perform best and what resonates with your audience. Be flexible and change things up when change is warranted.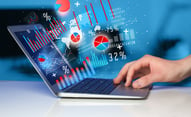 As well as analysing your own success, remember to monitor your competition. You want your business's performance to reflect improvements - not just compared to previous years - but relative to industry standards. Keeping an eye out for what competitors are doing also gives you ideas about what your audience is interested in and how the market is shifting - insights you can apply to your own campaign. In short, don't relax just yet! Be proactive, flexible and continuously iterate your campaign for best results.
In conclusion:
Lead generation is always a challenge, in any industry - but if you follow these recommendations, it shouldn't be so daunting! Remember, your lead generation campaign will work best if it's aligned with a cohesive marketing strategy. Follow our blog for other tips or be in touch if you need any help getting your campaign into gear!
Your Articles Need SkimCatchables
Skim-Catchables are bloggers' - now- not-so- secret weapon to make readers' jobs easier because they can easily skim down a page and find the answer to what they are looking for. Engaging titles and subtitles, gorgeous infographics, and functions like TL; DR (Too long; didn't' read) not only help readers, but should be part of any writer's tool kit!
Topic #Generating Leads,#HubSpot,#tips,#Organic Lead Acquisition