Our Short Answer: Google Discover is a personalized feed that anticipates what a user is searching for based on their interests and search history. To stand out from the crowd on Google search and Discover, you need to make sure your content is mobile-friendly, relevant, and informative.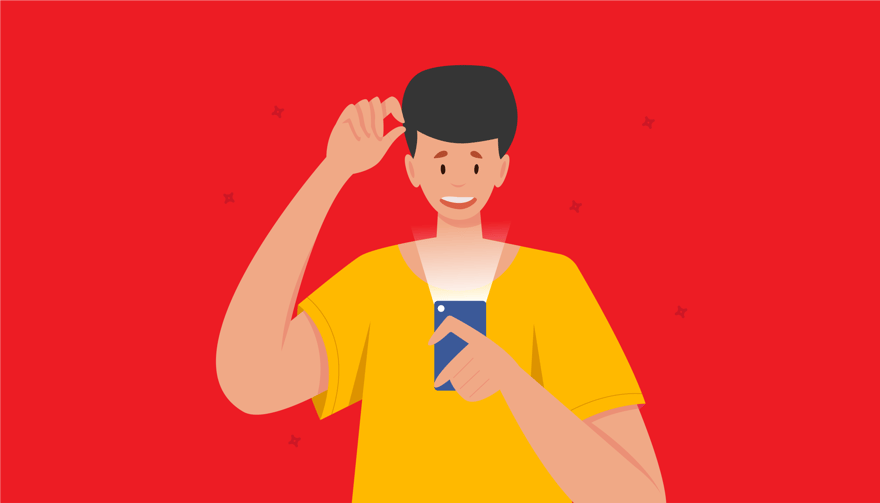 Google Discover is a personalized content feed that shows up on Google's home page, its app, and the web.The Discover feed is based on what specific topics and places a user follows, their interests and search history. The ultimate aim is to provide as much information as possible that's relevant to users.
With traditional search, you type in term or question into a search engine, in an instant it provides you with the best results based on what it thinks you are looking for.However, Google Discover anticipates user behavior (based on user's interests and search history) and unsurfaces the most current and informative content.
Google Discover's aim is to make it easier for you to explore your interests. It's part of a new trend, changing the focus of search from providing instant information to understanding the complexities of a user's journey.
What Google Discover Looks Like?
Here's a Gif from Google's very own blog revealing what the layout of Google Discover looks like: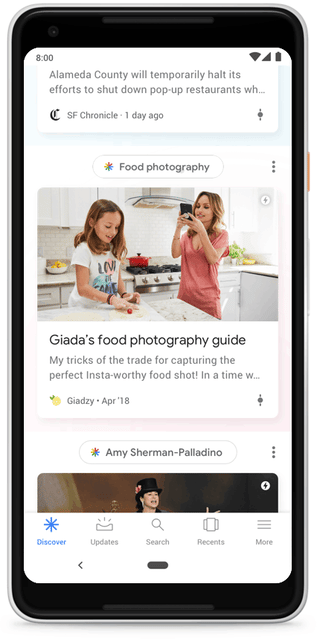 How Google Discover Works?
Google uses two tools: The Topic Layer in the Knowledge Graph and Google News AI / ML.
Google Discover applies The Topic Layer in the Knowledge Graph to gain an understanding of what topics interest users and how users interests change over time.
It also uses the Google News AI / ML that provides multiple perspectives on current events and news stories.
The goal of both these mechanisms is to understand individual users, rather than their independent search queries. The user is the central focus for Google Discover.
Google displays personalized content based on someone's location, their search history, or browser history. Google then uses all this information to display the most relevant and useful content for users.
Taking Personalization One Stage Further
Abby Hamilton writing for Search Engine Journal did some fascinating research. She looked at 700 Google Discover Interests (from members of the SEO community).
Interests relating to sports teams, and entertainment: were the most common. There are a ton of feeds on people's favorite sports teams and players.
Interests And Hobbies Outside Work: Whatever you do when you are not at work whether it is building model airplanes, cooking, or playing cards, similar content will be displayed by Google Discover.
Focus on brands that you shop for: while it's true that Google Discover's main purpose is to suggest the most relevant content to users, it still recalls which store or restaurant you last searched for.
Why Is Google Discover Important?
Websites are already seeing how Discover is beneficial. Take Vogue magazine as an example. In 2019, more of their traffic came from Google Discover than Google search. Conde West, owners of Vogue, and several other publications reported that Google Discover was responsible for 20% of their site's traffic.
Google Discover is symbolic of the direction that search engines, the internet and a majority of online platforms are moving toward. Compelling online content is increasingly becoming more visual, personalized and mobile optimized.
Today and in the future, to have success at standing out from the crowd and gaining attention you need to create videos, graphics, blog posts, that adopt the very same online trends that "Google Discover is algorithmically promoting".
There is no doubt that Google Discover does have benefits, but don't forget it's pretty new, it is app based, and hasn't taken the place of Google search just yet. However, there are ways that you can increase your visibility on Discover. Here are some tips:
Create Numerous Pieces Of Content That Relate To The Same Topic
One of the key things you can do to increase your chances of success on Google Discover is to create a number of quality blog posts relating to similar topics. Once you have a few articles, you can internally link them together.
Google Discover is mostly based on people's past search behavior. That means if someone that read an article on a particular topic in the past, there is a chance that Google discover will surface content on a similar topic when they performed a recent search
By creating a variety of content based on a related topic, then linking your blog posts together, you are telling google that there is a common thread that binds your content together.
Adding and Optimizing High Quality Images
Google Discover also favors high quality optimized images on your blog posts or web pages. Content with large photos together with text descriptions is favored by Google Discover. Even if the majority of your posts are text based, it's a good idea to add visually engaging and informative photos that draw the eye.
To optimize your photos and images for both Discover and Search algorithms, make sure you add alternate text (describing the content of the image) and you compress the files to avoid slow page-load speeds that impact your SEO.
Adding Videos
Google Discover is more visual in nature than text based. Video is becoming increasingly popular, and it's no wonder why Google Discover and Google Search prefer this type of content.
Because Google Discover favors video and a mix of recent and evergreen content, it's a good idea to use a variety of videos together like tutorials,short informative videos, and product demos.
Google's Recipe to Be Discovered On Discover
In order to get content to come up on Discover it has to be indexed by Google and adhere to Discover's conditions. You don't need structured tags or data to get found. However, even if it meets all the above criteria, that's no guarantee that your content will appear.
By posting high quality content that you think people will find informative, you'll increase the chances of success.
Here are a few tips that will increase your visibility:
Crafting titles that reflect the core point of your content, without being too clickbait.
Don't leave out any detail which is a crucial part of what your content is about.
Avoid adding information that panders to morbid curiosity, incitement or outrage.
Create timely and relevant content that relates to current trends or interests.
Provide clear data, accurate information about the company that created the content, including contact information that builds trust with visitors.
Include high quality and engaging images in your content. Large images are particularly effective on Discover.

Large images need to be at least 1200 px wide and enabled by the max-image-preview:large

setting

, or by using

AMP

. Avoid using a site logo as your image.

(https://support.google.com/webmasters/answer/9046777)
Our Bottom-line: Google Discover is a personalized feed that anticipates what users are looking for online based on their interests and previous search behavior. Today and into the future, it is no longer about how fast search engines come up with results; it is more about understanding the user's interests and intentions.
Your Articles Need SkimCatchables
Skim-Catchables are bloggers' - now- not-so- secret weapon to make readers' jobs easier because they can easily skim down a page and find the answer to what they are looking for. Engaging titles and subtitles, gorgeous infographics, and functions like TL; DR (Too long; didn't' read) not only help readers, but should be part of any writer's tool kit!
Topic #How to Get to #1 on Google,#Internet Marketing,#Marketing,#Digital Marketing,#how to show up on Google
Jonathan Gordon
Jonathan Gordon is the chief writer and PR liaison for an HR firm. His passions are creating inspiring and engaging content. Jonathan has a love for learning about new industries and acquiring new skills. Jonathan is also a trained classical and jazz pianist and loves meeting new people and is open to new experiences.