Our Short Answer: If you can afford the HubSpot CMS, you will get a better and more stable experience. If $300/mo. is too much for you however, WordPress can still make for a highly customizable CMS. You'll just have to keep an eye on function and security.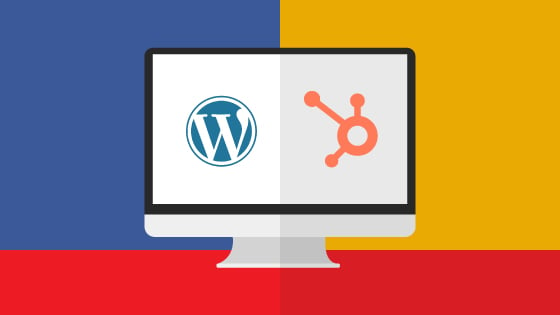 HubSpot and WordPress are two of the most popular Content Management Systems (CMS) on the market. The one that you'll choose will depend on your goals and your budget. A CMS enables you to edit, manage and maintain all the web pages on your site by using a single interface without needing much coding expertise.
But how do you know which one will be better for your business as they are both very different? Here we take a deeper dive to look at the pros and cons of WordPress and HubSpot CMS.
What Is WordPress?
Wordpress is the most popular CMS in the world. In 2020, 455 million websites, 35% of all business websites use WordPress.com. That's impressive, but what does it do?
WordPress started out as a blogging platform before it became an open source CMS platform that is free and easy to use. It has thousands of themes to choose from to design and build a website without needing much coding experience.
Because WordPress is an open source platform, there are plenty of user forums, and YouTube Videos available that explain in detail how to use it.
WordPress even offers its own channel called WordPressTV for tips on managing your WordPress CMS. This is great when it comes to learning about adding new features to your site, or to learn about a specific functionality.
WordPress's Thousands Of Plugins And Themes
WordPress is a huge enterprise, there are literally thousands of plugins and themes out there made by third parties which can be added to a WordPress site for different uses. Plugins and themes are either free or paid; some offer a free version and then a pro version.
JetPack for example, is a plugin that offers both free and paid options. (You'll find JetPack in the WordPress plugin directory). Jet Pack is an all-in-one solution for search engine optimization (to make sure your site is easy to find on Google). It also provides useful data analytics and social sharing.
There are practically infinite customizations you can make to your site with WordPress,

BUT

it comes with strings attached.
Since WordPress plugins and themes are made from a third party, if WordPress sends out an update, the plugin might suddenly not work because it wasn't prepared for the latest version of WordPress.
Suddenly, boom! Data can be lost, or an important part of your site can break. That's when you might have to spend a bunch of money just getting that data or blog posts back, often with no guarantee.
Another unfortunate element to plugins is that every additional plugin that you download to your site has the potential to slow it down. If you keep adding more, this speed decrease can become substantial.
What Is

HubSpot?
HubSpot makes software to help companies improve the integration of their sales, marketing and customer service departments.
HubSpot owns all potential add-ons to its websites - themes, templates, features, which makes it a significantly more stable and controlled CMS than the WordPress. Even when updates are made, all of the corresponding software attached to the site won't be affected, essentially eliminating potential site-breaks.
There are other highly tiered CMS (Content Management System) platforms, but what makes HubSpot stand out to us, is that it can work in tandem with HubSpot's marketing and sales tools. HubSpot is well known for having a sturdy Customer Relationship Manager (CRM) which can work seamlessly with a HubSpot built site, reporting insights and allowing you, the site owner to understand more metrics behind the curtain.
Essentially, HubSpot has created an all-in-one platform, so business and website owners don't have to keep track of three (or more) different platforms for managing their site, sales, and marketing.
Can HubSpot's CMS Be Used

Separately

From HubSpot's All-In-One Platform?
In short, yes. However, to experience HubSpot's maximum benefit, we recommend running everything through its All-In-One Platform.
What About Transferring Over Services?
If you've already built your website using WordPress, and you are satisfied with it, keep it. Though if you're thinking of upgrading to something more robust and safe, it's important to note that HubSpot professionals will help you manage the migration of your website, and can do the entire migration depending on your site and budget. The first 20 web pages are free with all other pages costing an additional $20 per page. It will typically take between two to three weeks to migrate your entire website.
User Friendliness: WordPress Vs. HubSpot
Both WordPress and HubSpot offer templates for you to get started on building your website. WordPress offers a huge selection of both free and premium themes.
If you are looking for a more customizable website and aren't confident in your coding skills, a WordPress developer is not too hard to find. There are also a lot of resources available to help you, but you won't get any formal help from WordPress.
HubSpot, on the other hand, offers a thorough onboarding process to ensure you know how to use all the tools. They also offer chat, call or email support throughout the workday.
Blogging
WordPress started out its life as a blogging platform and it is still one of things it does best. It is easy to get started, all you need to do is to click on the "Posts" tab to create blog posts. The format is very similar to desktop publishing software like MS. Word. You can use the WordPress content editor for the majority of the formatting of your post.
However, the WordPress blogging platform is limited to the bare essentials until you get more familiar with WordPress plugins or use a theme to customize your own blog posts.
You may be able to write great blog posts, but you'll need to download plugins to optimize your posts for search engines, to add a CTA, or for more up-to-date formatting styles. All these options are available on HubSpot.
While you'll need to download plugins on WordPress to get more customizable options, HubSpot has everything you'll need that's already built-in to its platform. HubSpot even has SEO tools which help you keep up with the latest updates to Google's algorithm behavior.
If you're using WordPress for blogging, we recommend that you download Yoast SEO, or a similar plugin and configure it to the latest SEO standards.
Cost
Two big factors in making a choice which CMS to use is cost and value. There is a notable difference in price between HubSpot and WordPress.
If you are looking for a more comprehensive solution which offers much more than a CMS, then HubSpot is ideal, although its all-in-one solution is on the pricey side.
How Does HubSpot's Pricing Work?
HubSpot CMS costs $300 per month. You can use it on its own or together with HubSpot's other product hubs. But, as we said above, to get the most out of the HubSpot CMS it is best used with one of HubSpot's other tools like its Marketing or Service Hub.
What Features Are Included in the HubSpot CRM For $300.00
Create content in multiple-languages for

every user

: You can create multiple versions of your content in different languages, enabling visitors to see your content in the language which they're most comfortable with. HubSpot also helps developers with tools that help to make sure that the right language is accessible to the end user.
Around The Clock Support: HubSpot offers 24/7 phone support. You can get help from experts who have an in- depth understanding of HubSpot's platform. You can troubleshoot problem using their chat feature and you can call, or email if you need more support. Their turnaround response time is pretty impressive.
HubSpot Academy and Knowledge Database: HubSpot offers an incredibly wide range of FREE classes for people who want to use their software, from how to best utilize their tools, to the very method of inbound marketing - it's worth noting these courses are free even if you aren't signed up for a CMS hosting package!
Auto Secure Socket Layer Certificate: This feature ensures that your site is hosted securely and safely. Having a Secure Socket Layer Certificate (SSL) is crucial for any website that wants to rank on Google and on other search engines. "All HubSpot websites are

automatically SSL enabled

".
How Does WordPress's Pricing Work?
If you wish to host with WordPress, you'll likely end up paying an average of $20-$50 for hosting, a domain name and themes.
For WordPress we recommend using an outside hosting service that offers quick support, such as WP Engine or Siteground. They both provide excellent customer service support. There are plenty of cheaper hosting service providers but they're much more likely to leave you feeling a little unsupported once in awhile.
WordPress plugins can vary wildly in price if you go for the pro versions. For example:
Yoast SEO: the basic version is free, while the premium will cost you $89 annually
Mail Chimp: there are three tiers: New business (free) growing business is $15 per month, and Pro Marker is $299 per month.
Security And Hosting
Two important things to consider for any website are its security and hosting platform. If you decide to use WordPress as your CMS, you will need to find both a hosting platform and determine the level of security you want. There are plenty of choices when looking for website hosting companies. However, it is a good idea to choose a hosting platform that offers a free SSL certificate, as SSL certificates typically cost between $50-$100.
One example of a company offering a free SSL certificate is Siteground. They also offer reasonable prices for hosting services and offer knowledgeable and fast support.
An SSL (Secured Socket Layer) ensures that you have a secure domain. It looks like this HTTP:// "Your Website Address URL", you will see an icon that looks like a lock in your browser's address bar.
The majority of businesses hire a developer to do all this for them. Some platforms like Bluehost offer support or you can ask them to take care of the SSL for you.
Because WordPress is an open source system, there are more security risks. You'll need to depend on the developer of your theme to stay on top of the latest WordPress upgrades. Having an outdated theme or plugins makes your site more vulnerable to hackers and/or malicious code.
The majority of WordPress sites run perfectly well, without being hacked. However, because WordPress sites are hacked often enough, it is something you need to be aware of.
To put it simply, choosing between HubSpot or WordPress is sort of like choosing between a Mac and a PC. Apple is incredibly stringent on what software is permitted to function on their operating systems, which makes Mac users less at risk for software based viruses. On the other hand, macs are really expensive! With the same cost, you can theoretically get a great and more customizable experience with a PC.
Our Bottom-line: When comparing the WordPress and HubSpot CMS, the HubSpot CMS provides a better and more stable experience for the price of $300/month. But if this is too much for you, you can make something on WordPress that does the job for you without necessarily having to feel like you're compromising.
Your Articles Need SkimCatchables
Skim-Catchables are bloggers' - now- not-so- secret weapon to make readers' jobs easier because they can easily skim down a page and find the answer to what they are looking for. Engaging titles and subtitles, gorgeous infographics, and functions like TL; DR (Too long; didn't' read) not only help readers, but should be part of any writer's tool kit!
Topic #How Much Should I Pay for A Website,#website design,#How to build a better website,#Website Speed,#cms
Jonathan Gordon
Jonathan Gordon is the chief writer and PR liaison for an HR firm. His passions are creating inspiring and engaging content. Jonathan has a love for learning about new industries and acquiring new skills. Jonathan is also a trained classical and jazz pianist and loves meeting new people and is open to new experiences.