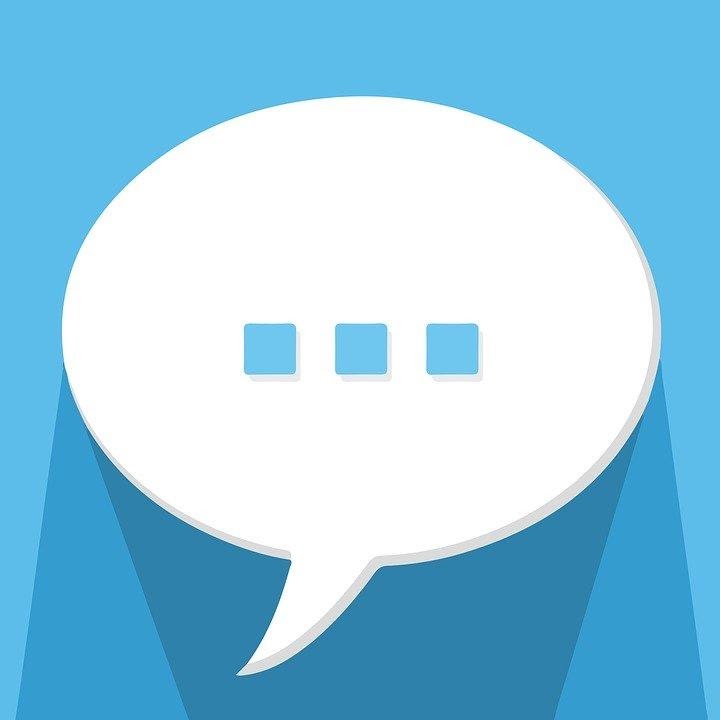 The Simpler Way to use Live Chat on Your Website (A quick guide)
In this technology-driven world there is a tendency to think, "Not another gizmo to make my life even more complicated!" Believe it or not, as a person who has a passion for bright, new, shiny technology and gadgets - I agree with you! Technology is here for a reason - to make life easier. For example, communication devices to enhance our interaction with people we treasure the most - our family, friends and especially our customers.
Everybody dreads making a call to an automated machine. After hanging on for some time, customers get nerve wrangling elevator music and then told, "You are number 10 in line, we will get to your call shortly."
Then there are customers searching online wanting to find out more about a product or service. Most of the time they are presented with a form to complete and a message promising to get back to them as soon as possible.
However, these customers aren't going to wait around long and will happily find a competitor who provides the service or product they are looking for.
One effective solution with many benefits including increased customer conversion and better customer experience is chat windows.
What is a live chat window and how does it work?
The simplest way of explaining what a chat window does is using the following analogy: imagine you are a customer and you walk into a clothes store. You are now looking for someone to help you. Without needing an invitation, you are warmly greeted by someone working in exactly the section of the shop you require. They ask how they can help, making you feel like you are being looked after.
Live chat works in exactly the same way. A prospect or customer browsing your website is looking for answers to a particular problem or wants to know more about a specific product. After a few moments on your site, a window pops up on the home page or landing page with an automated message "How can I help you today?"
They then click to open the chat window and type in their inquiry. They are quickly forwarded to the expert or person they need.
A great example of a live chat window is the one on homeexchange.com. Here you can see an icon on the bottom left of their home page. Customers just need to click on the orange chat icon to start chatting.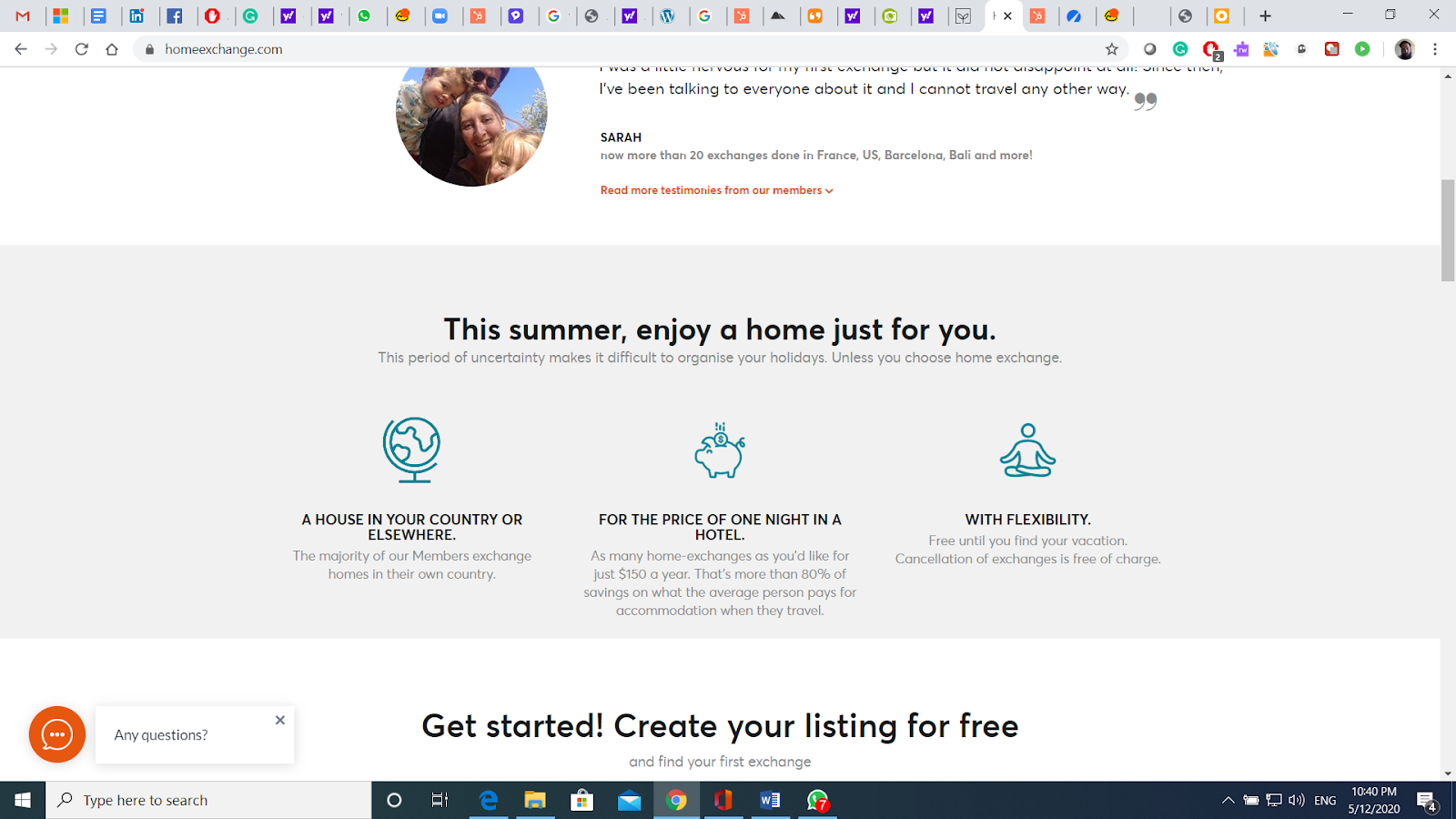 Keeping track of chat notifications
When you are using live chat, providing a quick response to customers' chat inquiries is crucial. Customers expect you to answer them as quickly as you would pick up the phone. However, how does live chat work if you're out of the office?
The simple answer is by getting someone to take over. Another solution is to use a chat bot on your website. A chat bot is defined as artificial intelligence software that works similarly to a chat window, only your customer is speaking to a computer.
Chat bots simulate the way humans converse. They answer customer questions using prepared scripts. Chat bots can be used on websites, messaging applications, mobile apps, and even through the telephone. The best thing about them is that they can engage your customers 24/7, well after you leave the office.
Notifications when away from your desk
These are chat notifications that can be directed to your computer or mobile device.
Browser notifications work in a similar way. When you are on a different tab or webpage, a Google Chrome, Microsoft Edge, or Safari browser will give you notifications at the bottom of your page that there is an incoming message from a prospect or customer.
(Email chat notification below)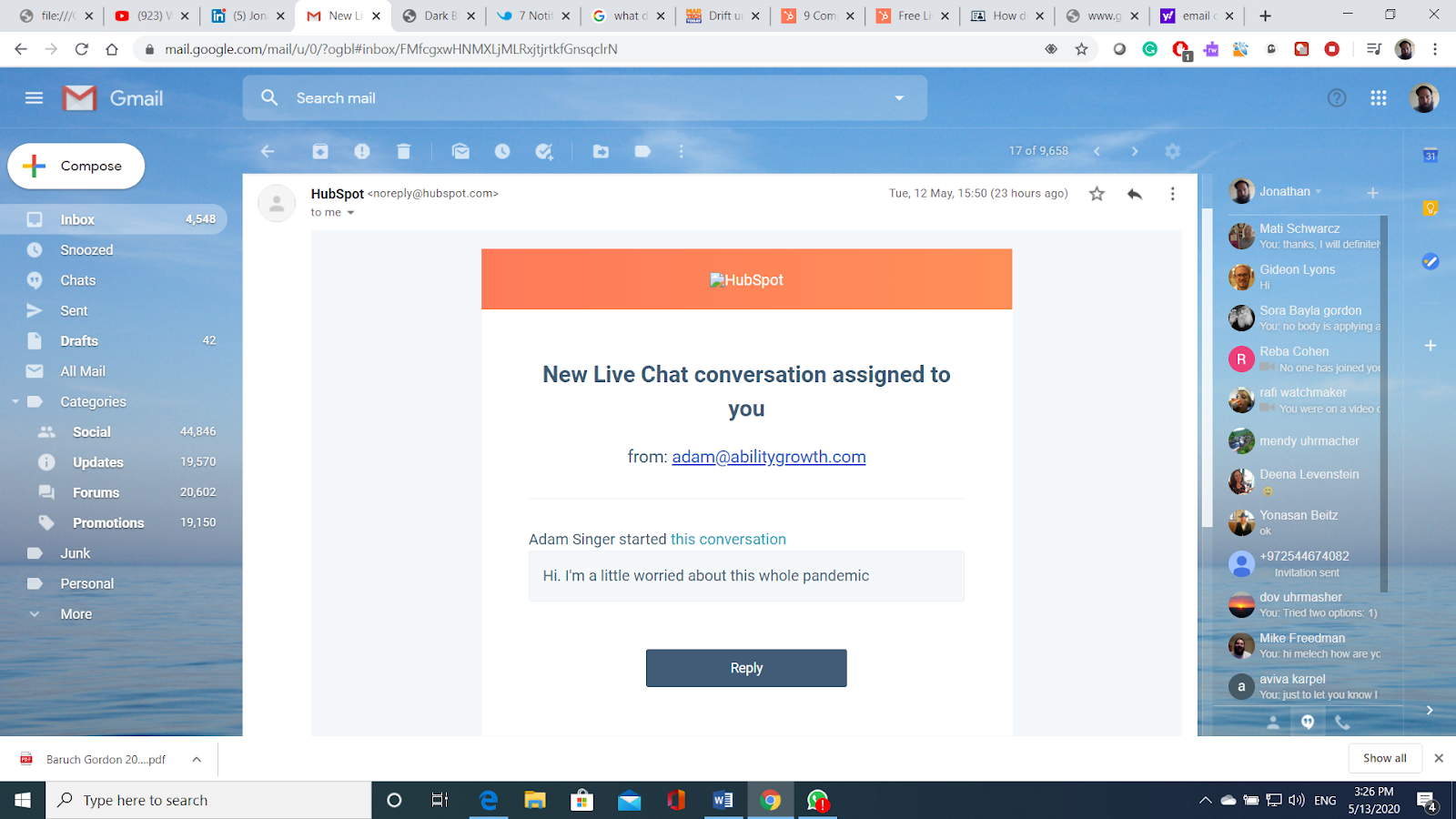 How to respond to a live chat?
If you speak to customers on the phone daily, handling inquiries is a skill you already have. Exactly the same for speaking to customers on live chat. With live chat you can read what a customer or prospect is typing before responding, while carefully noting the important details of the conversation.
Actively listening and asking the right questions from a prepared script is always better than rushing to find an answer. Sammi Caramela writing for businessnewsdaily.com says it is always good to have in mind to be rapid in response, but deliberate in solving customers' problems.
Using the right tone for different customers
When a customer initiates a live chat, it is usually in a conversational and friendly style. However, different customers have different preferences. For example, for frustrated or apprehensive customers it is best to use a professional tone, while still maintaining a personable and helpful approach.
Many people prefer live chat because it is more human than waiting on line listening to an automated message, so don't be afraid to inject a bit of your personality.
How to direct chats to the right people?
Most live chat software has an option where you can transfer the chat to another person in customer support or to an appropriate department that will be able to effectively answer a customer's query or problem. It works in a similar way to transferring a call, only with live chat software you can accomplish this without putting a customer on hold. You can simply click chat transfer to forward the customers chat to the appropriate person.
(Chat Transfer below)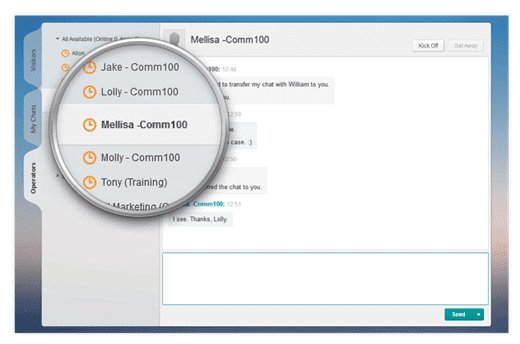 Other useful tools that you should know about
When you are handling multiple inquiries it is very easy to be overwhelmed because live chat provides more opportunities for those customers and prospects on your website to speak to a human being. The following tools may come in useful, especially when you are not used to handling multiple inquiries.
Templates or snippets (as HubSpot call them) are reusable blocks of text that can be saved to use in chat conversations. Canned responses are great for your customers' frequently asked questions. Hubspot free chat offers chat tags which are useful for differentiating between leads.
Hubspot free chat software also has a reporting tool, helping you to track visitors' to your website. This amazing tool helps you gather behavioral information on your audience including who chats more, returning or potential customers.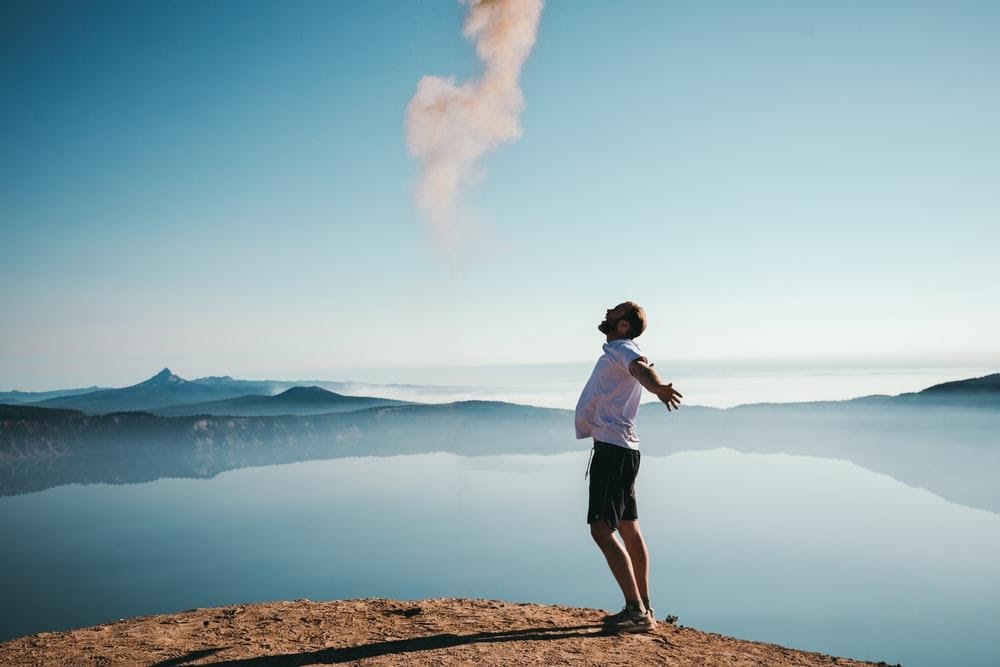 The Chat Window: the delightful and refreshing way to engage with your customers
In today's competitive world customers need to feel they come first. Using this guide will help to maximize your customers' experience and happiness and also help you to increase high quality leads that will grow your business
Jonathan Gordon
Jonathan Gordon is the chief writer and PR liaison for an HR firm. His passions are creating inspiring and engaging content. Jonathan has a love for learning about new industries and acquiring new skills. Jonathan is also a trained classical and jazz pianist and loves meeting new people and is open to new experiences.