Our Short Answer: The best 3 blogs you need to be reading for your business are copy blogger which will show you how to create engaging content; HubSpot's sales blog which will help you convert more leads to sales, and the OptinMonster CRO blog that will provide tutorials showing you how you can increase website conversions.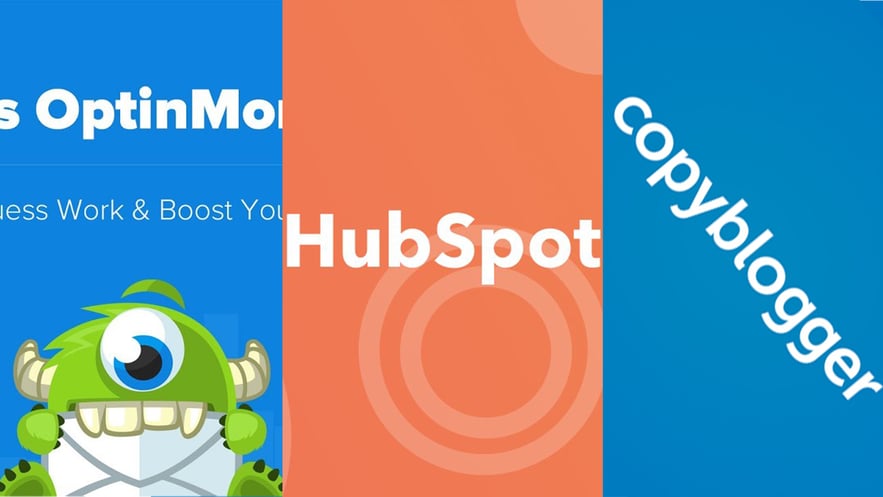 Today, we live in a generation where we are flooded with information. With hundreds of blogs out there, you simply don't have the time to follow all of them. Topics range from starting up a business for the very first time to marketing tips to grow your brand. Some blogs were started a decade or more ago, others have become popular in the last few years.
There are 7 main types of business blog. These include:
Marketing
Sales
Starting up: the latest news for small or start up businesses.
Finance
Growth
People And Culture
Freelancing
Which blogs you choose to read will come down to what your interests are, what stage you are in growing your business, and what type of business you have.
Our Top 3 Business Blogs That Rock Our World
While many publications have blogs titled the 50 best or the 100 best blogs for business, we decided to whittle it down to "The Best 3 Blogs You Need To Be Reading For Your Business". As you can imagine, to choose the top 3 blogs is a challenging task, but there is no challenge that we can't meet.
Our Top 3 Are:
Copy Blogger (for marketing)

HubSpot's Blog (for sales)

OptinMonster CRO Blog (for growth)
1) Copy Blogger
Neil Patel is a premier SEO professional and blogger, and like us, he loves Copy Blogger's work. He even featured 18 of their best posts in his recent blog titled "18 Reasons Why You Need To Ready Copy Blogger"
Copy Blogger covers a variety of topics like: how to use Twitter more effectively for your business, using content marketing to get more customers, and how to avoid the dreaded writer's block. There's no feeling worse than staring at a blank screen knowing you must write something, but you can't get started.
It is a must for any content creator, Even if you employ a freelancer to blog for your business it's crucial to recognize the value of blogging regularly.
Blogging is one of the most important ways you can connect with your customers and provide solutions for people who are already searching for them on Google and other search engines. This business blog teaches how you can get started with creating content that will wow your audience.
Copy Blogger was founded in 2006, with a vision to teach the world how to create inspiring content. They started as a one person blog and grew into a digital ecommerce company called Rainmaker Digital. You can sign up for a free account and each week they will provide you with email marketing, SEO, blogging, and online marketing tips.
For More On Copy Blogger
Click Here
.
2) HubSpot Sales Blog
Hubspot is one of the world's premier names in online and inbound marketing. They produce three different types of blog tackling marketing, sales and customer success. Their blogs are large and they publish multiple posts every day from staff and guest post authors. They provide extensive coverage of whatever topic they choose to write about.
HubSpot also has one the most widely used marketing and sales tools, with over "15,000 customers in 90 countries". (https://www.datadab.com/blog/best-sales-blogs/)
They have a library of approximately 2,500 posts on sales alone covering all facts of sales including lead generation, writing the perfect email subject lines and even advising you how to negotiate an agreement. HubSpot provides everything that your business will ever need to achieve or exceed your sales goals.
Their authors include some of the world's well-known names in sales including Jeff Hoffman, Trish Bertuzzi, Anthony Lannarino, and Donald E. Kelly and more. It's a great blog to read for any type of business.
For More On HubSpot's Sales Blog
Click Here
.
3) OptinMonster CRO Blog
The OptinMonster Conversion Rate Optimization Blog offers great ideas and step-by- step lessons on how to increase your website's conversion rate and hit your growth goals. Their blog posts cover a selection of tutorials, articles, and case studies on the key parts of email marketing, growth tactics, content marketing, lead generation and A/B testing.
If you are searching for fresh ideas on how to improve your conversions from visitors to customers, this is the perfect blog to follow for your business.
For More On The OptinMonster CRO Blog,
Click Here
.
Our Bottom-line: The three most important blogs you need to read for your business are copy blogger that will show how to create great content, HubSpot sales blog that will advise your sales team on how to convert more sales and OptinMonster CRO blog that will provide tutorials and content that will help to boost conversions on your website.
A Few Other Blogs That Almost Made Our List
Seth Godin's Blog
Seth Godin is best known for being a marketing guru. He is the author of 18 bestsellers. Examples of his books include "This is Marketing", "Tribes", and "Purple Cow". His ability to capture pearls of information in just a few words is unparalleled.
Seth's daily blog talks about an array of topics from the post-industrial revolution to leadership. There is no telling what he will blog on next; whatever it is, it will change the way you think. If your business feels stagnant, or you need to shift your focus, follow this blog.
For More On Seth Godin's Blog,
Click Here
.
Tim Ferriss' Blog
Tim Ferris rocketed to fame with the release of his book "The 4-Hour Work Week". Subsequently, he has written four more books and created a podcast that has 500M downloads to date. Ferris's blog has remained number one on the Top 150 Management And Leadership Blogs for several years. Ferris's covers a range of topics from entrepreneurship to mental performance.
For More On Tim Ferriss' Blog,

Click Here

.
Your Articles Need SkimCatchables
Skim-Catchables are bloggers' - now- not-so- secret weapon to make readers' jobs easier because they can easily skim down a page and find the answer to what they are looking for. Engaging titles and subtitles, gorgeous infographics, and functions like TL; DR (Too long; didn't' read) not only help readers, but should be part of any writer's tool kit!
Topic #business blogging,#blogging,#small business,#Business Growth
Jonathan Gordon
Jonathan Gordon is the chief writer and PR liaison for an HR firm. His passions are creating inspiring and engaging content. Jonathan has a love for learning about new industries and acquiring new skills. Jonathan is also a trained classical and jazz pianist and loves meeting new people and is open to new experiences.