By taking steps like: creating content, running paid advertising campaigns, being active on social, using video and optimizing for voice search, you can bring a substantial amount of traffic to your website.

During the pandemic, there's no denying that consumer behavior is changing. More people are working from home. As a consequence, more prospects are using search engines to find out information. Online purchases have also increased.
Good news right? It depends. If you are taking steps to increase traffic today, the future is bright.
Research from Statistica.com shows:
In the week ending June 14, website traffic went up by 10.2% compared to January and February 2020.
70% increase in using

search engines

to find out information
61% increase in the use of social networking sites.
47% increase in people buying products online.
Here are our 5 steps to take to bring more traffic to your website:
Content Creation

Paid Advertising

Social Media

Video Marketing

Optimize for Voice Search
1. Content creation:
Most website traffic includes leads that you don't want. One of the best ways to attract more traffic is through creating valuable content. The first step of any content strategy is to understand your audience. First by building a buyer persona to understand their pain points and then by conducting an SEO search to understand what they're searching for. That way you can develop content perfectly tailored to their needs.
An example of content creation is a blog. To get your blog read, you need attractive clickable headlines. An effective practice is to vary the length of your posts to suit all readers. Don't forget to include videos and infographics that increase audience engagement. One strategy to consider is writing guest posts to get an increase in referral traffic. People will see your guest post on an authoritative site in a niche you want to grow into. By clicking on the link it will direct them to your site.
2. Paid Advertising:
Drive traffic to your site quickly with paid advertising by running a Pay Per Click (PPC) campaign or retargeting your ads. Using Google ads, or social media sites like Facebook and Instagram you can run display ads or sponsored posts. The best strategies contain a mix of PPC and Social Ads. Recent research from the 2020 CMO survey shows that sixty two percent of businesses expect to spend more on social advertising in the next five years.
3. Get Social on Social Media
Using social media platforms to share and promote content is not the only way to generate traffic to your website. There's also using live video, Facebook Messenger and Instagram's stories with its great "Hello Swipe Feature". The important thing is to adopt new features and platforms like TikTok early - providing they suit your audience.
Facebook messenger has a new automated generation feature. This helps businesses
"create chatbot automated experiences within Messenger to link to content offers on their websites". A great way of generating more engagement and traffic to your website.
HubSpot recommends using a strategy which includes a full range of platforms (Facebook, Twitter, YouTube, Instagram and Pinterest). Research shows Pinterest generates a ton of traffic with "66% of users making purchases after seeing a brand's pins".
4. Video Marketing
Video is one the fastest growing ways to generate engagement and increase traffic to your website. According to Cisco, 82% of traffic to websites will be via video by 2022. There are a bunch of video platforms that include CTAs and other tools that are great at generating traffic.
Research shows video holds an audience's attention longer than written content.
5. Optimize your site for Voice Search
Part of driving the maximum amount of traffic it's crucial to show up where your prospects are searching. Voice search is an increasingly important area to rank. Research from PwC shows that 65% of 25-49 year olds use voice search at least once a day.
Tips for Voice Search
Implement long-tail keywords in your content and/or ads: people searching on voice activated devices speak in full sentences.
Write How-to Blogs and other answer-focused blogs: Your blogs that you write and share on social should answer people's questions.
Optimize your content for snippets: Shorter concise answers is better for tools like Alexa and Google Home. Writing quick and brief summaries in your blogs makes it easier for search engines and voice activated devices to find the answer that they're looking for.
Three Types of website traffic and ways to increase it: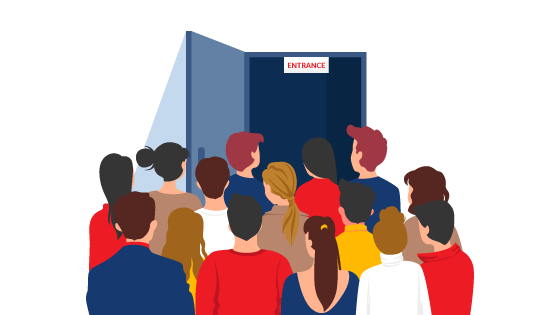 Direct Traffic: are visitors that either type in your website address into a browser or someone recommends your website offline to a friend.
An increase in direct traffic can be achieved by providing content that is so valuable and informative that it persuades visitors to come back for more.
Referral Traffic: visitors that click on a link on another website that directs them to yours. You can increase referral traffic in a few ways. One option is by writing guest blogs on another website with greater authority in a certain niche. Someone sees it and it's so good they come to your website to find out more.
Public Link Sharing: share links to your website in places that you'll know your target audience is more likely to see it.
Social Traffic: Visitors find a link on social media that directs them to your website.This is a true measure of the value of your content. Two ways of Increasing social traffic are either by creating and sharing awesome content or through paid campaigns on Facebook or Instagram.
Our Bottom Line:
With more people online than ever before the pandemic, businesses need to create great content, consider paid ad campaigns, use video to engage prospects, maintain an active presence on social and optimize for voice search to bring traffic to their websites.
Your Articles Need SkimCatchables
Skim-Catchables are bloggers' - now- not-so- secret weapon to make readers' jobs easier because they can easily skim down a page and find the answer to what they are looking for. Engaging titles and subtitles, gorgeous infographics, and functions like TL; DR (Too long; didn't' read) not only help readers, but should be part of any writer's tool kit!
Topic #How to Get More Traffic to My Website,#SEO,#Website Marketing,#abilitySEO,#Digital Marketing
Jonathan Gordon
Jonathan Gordon is the chief writer and PR liaison for an HR firm. His passions are creating inspiring and engaging content. Jonathan has a love for learning about new industries and acquiring new skills. Jonathan is also a trained classical and jazz pianist and loves meeting new people and is open to new experiences.