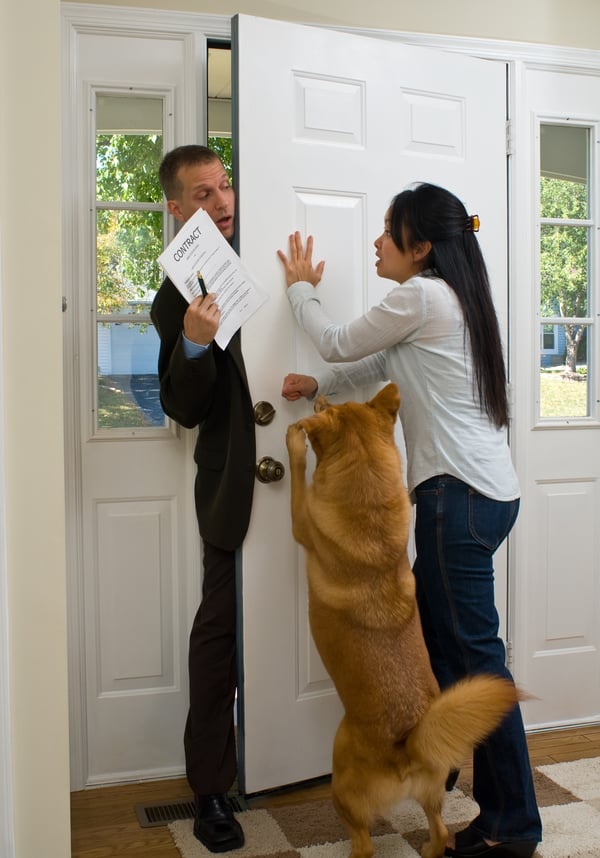 Door-to-door salesmen are ignored for the same reasons we delete spam mail. We don't need their product, we don't have time to hear their pitch, and we don't trust them.
In fact, the iconic peddler of the past, selling pots and pans to families on the frontier or later, vacuums to bored suburban housewives, has virtually disappeared.
Yes, times have changed.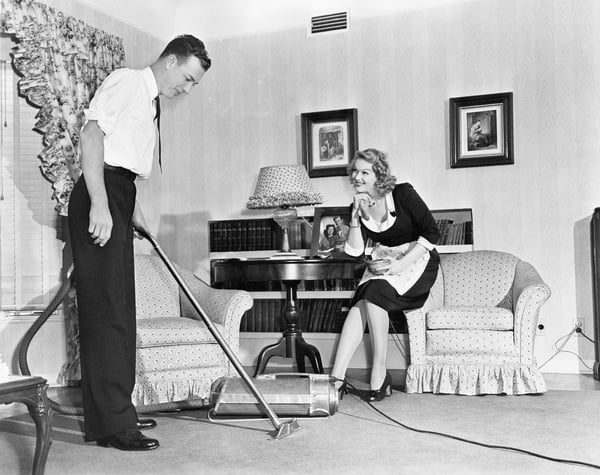 Inbound marketing and the flywheel business model have updated the marketing and sales approach of yesteryear.
Why?
When the traveling salesman was the main game in town, choices were limited and the need was great.
Nowadays, according to Hubspot, your potential customers are slow to trust any business without significant research and recommendations.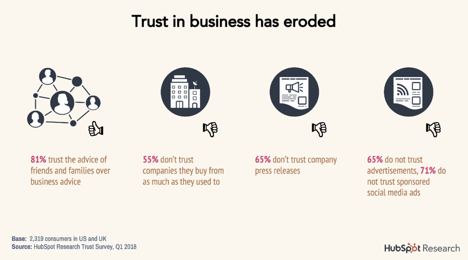 (statistics and infographic from HubSpot's "The Hard Truth About Acquisition
Costs (And How Your Customers Can Save You")
With the advent of the internet, the abundance of choice, and available reviews, customers are much choosier.
How the Buyer's Journey Has Changed
Buying a fridge in 1990
The buyer's journey was different thirty-years ago when 25-year old graduate student, Howie Jones, purchased his first refrigerator. After finding two appliance stores in the yellow pages, he jumped into his car and headed to the first store. He wasn't armed with much information, except that GE was a good name, and he had seen their commercials during the Superbowl half-time.
The first salesman raved about GE's top model and convinced him that it was better long-term to invest in the larger, pricier, 33-inch model (even though Howie was a single guy living in a small apartment rental).
The second salesman concurred with the first but was willing to take 5% off the price.
Howie mentally reviewed his savings account balance and then, decided to take the plunge.
Sold.
Howie remembers little else except that when he opened the huge box in his tiny New York kitchen, he realized that he had made a mistake.
For years, he harbored anger towards the salesmen that steered him in the wrong direction just to get a sale. He never recommended those stores to anyone who asked.
Buying a fridge in 2020
When 23-year old Lizzie Feingold's fridge died in January of 2020, she hopped on the internet to research a new one. Like Howie, Lizzie lived in a rental apartment. She knew she wanted a small fridge with a bottom freezer, so she looked up the stats and reviews of different models.
Then she searched for online appliance stores in the Boston area. She found a store with pictures and prices but not much in terms of information. Another store had glossy images and descriptive product information as well as a big pop-up requesting her personal information.
The third store had all of the above plus a blog. She found articles about the pros and cons of bottom freezers, how to maintain a fridge for more than ten years, and what type of fridge to buy when you are renting an apartment (and will probably move a few times before you buy a house.)
She read three articles, which convinced her that these people really knew what they were talking about. But not only that, they really understood her situation and what she needed. Blown away, she contacted the company to discuss her needs further and finally made a purchase.
The salesman she spoke to on the phone followed-up with her a week after the fridge was delivered to see if she had any questions on how to use its features.
Lizzie loved the personal attention and care she received.
When her friend Laura was in the market for a new fridge soon after, Lizzie referred her to this same company and couldn't say enough about their knowledge and honesty. Laura didn't bother to look anywhere else.
Inbound vs. Outbound Marketing
While these examples have been simplified to illustrate a point – it's clear which marketing and sales model is more effective in 2020.
Howie's buying experience represents the standard sales funnel.
The appliance store used outbound marketing techniques like television commercials, billboard advertisements, and the yellow pages to attract the customer and make a quick sale. It worked because when Howie bought his fridge, not only were there fewer choices, he had less access to research and had to rely on the salesman's opinions.
However, by the time Lizzie arrived at the website with the blog, she had already researched models, checked third party review sites, and spoke to her friends. What she needed was advice from a wiser, more experienced source to help her make the best decision. And that's exactly what she found.
Lizzie's story is a classic example of how inbound marketing can work. But the cream on top is the referral she gave the company. And that direct referral is exactly what fueled the company's flywheel.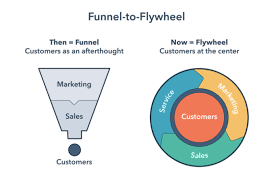 In the standard business funnel, making a sale is an end in itself. However, in the flywheel model, the sale is a catalyst for lead generation. It creates a cyclical momentum that drives business growth.
The best leads are ones that are warm from referrals and recommendations. For this reason, inbound marketing focuses on the customer experience throughout his/her buyer's journey including after the sale is made.
When you build your business marketing strategy by targeting your own unique "Lizzie," or your buyer persona, your ROI will be golden.
To learn how to use inbound marketing to convert leads, check out this article.
Learn about Inbound Marketing, The Inbound Flywheel, and what these things can do for you and your business this June, in a free webinar with Speaker and SEO Expert Adam Singer: